I am a Chiropractor. I will provide principled Chiropractic. Today I will love everyone, serve everyone, and give the message of chiropractic to everyone. Every man, woman, and child needs Chiropractic. Thereby, allowing everyone in becoming and remaining subluxation free. At no time, will I withhold the truth of chiropractic for fear of ridicule.
I am an expert at detecting and correcting subluxations. I will correct subluxations on everyone I care for today. When I deliver a chiropractic adjustment, the power within them, heals them, every time without exception.
Today, I ask for the strength to serve all those who are coming to seek my help. I ask for the love to give fully to each one individually. I ask for the innate wisdom to correct every subluxation I lay my hands on today. I ask for your help so that Today others may share in the benefits and full expression of optimal health that chiropractic provides.
Dr. Rachel Whaley
Dr. Rachel always knew she wanted to work with and be surrounded by babies and children because she was drawn to their vitality and fervor for life. Her practice is focused on encouraging families to take a preventative approach to health and well-being by allowing the innate intelligence of the body to flow freely thus enabling the body to perform and function at its best. She played collegiate volleyball while getting her bachelors in Exercise Science which prepped her for her doctorate at Parker College of Chiropractic. There she took continuing education classes specific to working with pregnant mommies, babies and children coming full circle to fulfill her passion working with kids.
She's married to Aaron who runs a fitness center at her alma mater Texas Wesleyan University. They have a son named Addox and two daughters named Everly & Oakley who spend a lot of their time working alongside mommy at the office.
Dr. Hannah Winn
Dr. Hannah was born and raised in Fort Worth, TX. She attended Texas A&M University for her undergraduate education…Gig 'Em! While there, she obtained a Bachelor of Science in Biomedical Sciences with a minor in Business Administration. She then went on to become a licensed Emergency Medical Technician.
Dr. Hannah continued her education at Parker University in Dallas, TX, where she graduated Magna Cum Laude as a Doctor of Chiropractic in addition to obtaining a Bachelor of Science in Anatomy and Bachelor of Science in Health and Wellness. She completed her chiropractic internship at the Veterans Affairs Hospital in Dallas, TX. She was the TA for Emergency Care at Parker University throughout the DC program and had the opportunity to teach the labs for the class in the Fall of 2016.
Her passions include increasing awareness of true health and wellness in the community, helping children with handicaps overcome obstacles, and aiding women through pregnancy. Outside of chiropractic, Dr. Hannah enjoys singing, spending time with her large, Italian family, and traveling.
How she was led to become a Chiropractor:
"My younger sister, Kaylah, was born with a rare chromosome disorder (Wolf-Hirschhorn Syndrome 4p-) when I was 5 years old. I recognized at a very young age that I wanted to spend my life helping people overcome obstacles, just as Kaylah's doctors had helped her. I had always assumed this path would be as a medical doctor. It wasn't until the tail-end of undergrad that I was introduced to the impact I could make without the use of drugs or surgery as a doctor of chiropractic. I was blown away with the philosophy, art, and science of chiropractic and quickly fell in love with my future profession. The innate ability of the body to heal itself is incredible! I am continually blessed by what I experience with patients on a daily basis."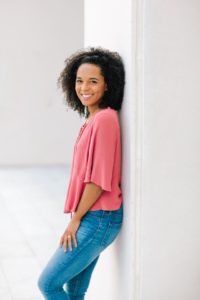 Dr. Lauren Collins
Dr. Lauren's interest in the human body and healthy living began as an undergraduate studying Exercise Science and Dance at UT Austin. Once she entered chiropractic school at Parker College in Dallas that interest evolved to a full blown passion. Chiropractic exposed her to holistic health principles and vitalistic philosophy which recognizes that the human body has an innate wisdom and health begins from the inside out. That philosophy resonated with her so much and just made complete sense!
She recently moved back to DFW after owning a private chiropractic practice in Houston for almost 4 years where she primarily served pregnant women, babies, and families. Now she resides in Fort Worth with her husband Jonathan and Goldendoodle Cooper. She loves almond milk lattes, new experiences, reformer pilates, all things birth, and romantic walks through the aisles of Target.